India's largest tyre recycler Tinna Rubber is expanding its footprint in the Middle Eastern market by acquiring a majority stake in an Oman based tyre recycling operation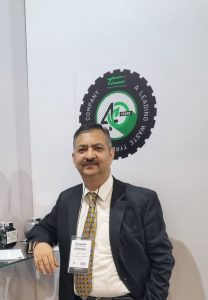 According to Subodh Sharma, COO, Tinna Rubber & Infrastructure Ltd, the new Oman subsidiary, which was established six months ago at Saham, 200 km from Muscat, will operate as Global Recycle LLC.
The move will provide Tinna with access to the region in Gulf Cooperation Council Countries (GCC).
The capacity of the pilot project is to recycle 10,000 metric tons annually," said Sharma. "Our vision is to scale up the capacity by threefold in the next one to three years."
Initially, the focus is on streamlining the production and supply chain issues besides understanding the region's policy towards the recycling of waste tyres.
"So far, we have invested about $2 million in the project," he added. Production at the site started in July 2023. The project will not only help in building circularity in the Oman economy but will also generate employment opportunities.
Meanwhile, Tinna Rubber is also expanding in the western part of India with a $5 million investment in a new facility near Mumbai.
"We are now in the midst of setting up a car tyre recycling plant on 10 acres of land, at a location called Varle, which is about 80 km from Mumbai," said Sharma. The new site will have the capacity to recycle 60,000 metric tons of car tyres annually and is expected to be operational by the end of 2023.
Tinna Rubber & Infrastructure Limited was founded 1977, and today it is India's largest End-of-Life Tyre (ELT) material recycler, having a legacy of over 40 years in the rubber business. It is also the only recycling company having a well-diversified application portfolio servicing the infrastructure, consumer, and industrial sectors.
Currently, Tinna operates four tyre recycling sites in Haldia (W Bengal), Wada (Maharashtra), Chennai (Tamil Nadu) and Panipat (Haryana).
The Indian expansion will bring Tinna's combined capacity to 200,000 tons of waste tyres per year, claims the company, and this will enable Tinna to become the largest waste tyre recycler in Asia.