Engineer Mahmoud Mohsen from Retyres is a young Egyptian, studying in the final year of the Faculty of Engineering, Suez Canal University, Petroleum Engineering Division.
Engineer Mahmoud Mohsen's Graduation Project for his final year in College was; The Extraction of Oil and Carbon Black from Waste Tyres. Mohsen explained; "by thermal decomposition of rubber under reduced pressure, it is possible to recover the useful compounds. From bench-scale batch systems, to process a development unit and finally a pilot plant, to experiment and develop vacuum pyrolysis of used tyres, this will result a recovery of oil, the carbon black favourably compared with the low standard grades and it may find an application in low grade rubber goods following further research and development. The process has been tested and positively demonstrated the possibility of continuously feeding large chunks of rubber under vacuum.
Engineer Mahmoud Mohsen, aimed to apply his Graduation Project in real life, but he discovered that he has to go through the investment in phases. This would mean starting a regular tyre recycling facility as phase one, then accordingly develop to another phase of extracting oil and carbon black from scrap tyres.
"We chose our factory location based on pure logistical terms," added Engineer Mahmoud Mohsen, "close to the tyre source, also near by the buyers of the powdered rubber and wires. The factory area was one thousand meters square, divided into production and storing spaces, that allows the movement of loading and unloading trucks.
"All the machinery was locally made. If there was a need for a specific part of the machine that was not available locally, that specific part was only imported and assembled locally to the machine," added Engineer Mahmoud Mohsen.
Mohsen employs a workforce of ten at Retyres, split between technicians and administrative personnel per shift. Normally the team works two shifts daily. Technicians are chosen based on body muscle abilities initially and the capability to operate the machines too, he also trains them on basic Safety Measures.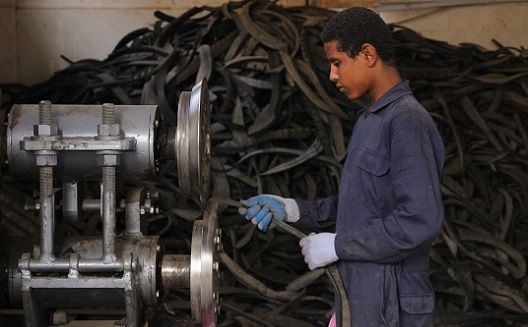 Asked about the procedure of collecting worn out tyres, Mohsen answered that they used to participate in tenders with transport companies offering their worn out tyres for sale, also sometimes buying worn tyres from dealers who win those tenders. A third route was to offer to buy tyres from drivers and tyre fitting shops.
It was important to know the challenges that faced Mohsen and Retyres, he commented that the main challenge was the availability and cost of worn out tyres. Also, the process of worn out tyres collection by us was too expensive due to the long distance our representatives had to travel searching for the tyres and the quantities were often poor.
The second challenge was that, the cost of labour retention as workers often moved on..
Third was that the buyers would not sign supply contracts because production wasn't high enough for their consumption, which hindered any clear production plan for the factory.
Forthly, the cost of governmental licenses and documentation were expensive, and we had to have them.
Mohsen adds; "After my graduation and the startup of Retyres, there wasn't any support from my University. I visited them a couple of time and made some inquiries but I didn't get any feedback. In due course we managed to overcome some of the later challenges, of course not all." Added Engineer Mahmoud Mohsen.
"I had plans to develop the capabilities of Retyres, explained Engineer Mahmoud Mohsen, and I strongly believe in those plans, but when it comes to reality, I have to move slower. There have to be joined-up efforts by, mainly the government and the Educational Institutions, to support the tyre recycling business," he added.
"Yes, I am convinced with the Retyres concept," confirmed Engineer Mahmoud Mohsen. "I strongly believe its benefits to the environment, community and economy, I foresee that the number of investors will increase in this business.