The French company REGOM, is developing innovative sorting solutions to improve tyre sorting quality and the technology has seen Zeppelin Systems show interest.
REGOM creates, produces, implements, and sells tyre sorting machines all around the world. It also develops software for the management of sorting activities and promotes the reuse of tyres.
This initiative comes at a time when tyre manufacturers are looking to recycle materials for their own use, and one of the criteria that may help them develop solutions is the sorting of tyres at the collection point, into manufacturer brands, and possibly even batches.
To expand its actions, REGOM is signing a cooperation agreement with Zeppelin Systems specialising in plant engineering to add the sorting machine to their solutions and create a complete solution for tyre recycling.
REGOM's sorting machine is the first step of a larger recycling project that will allow to improve the quality of ELT's and products made of ELTs thanks to the identification and selection process possible with the sorting machine MTP-TRI.
With the first industrial semi-automated sorting machine (MTP-TRI) based on Artificial Intelligence available on the market, REGOM has revolutionised the recycling sector and is considerably improving sorters' working conditions and the sorting of tyres. With a reading speed of 1 tyre every 3 seconds equivalent to 1 200 tyres per hour, each tyre enters one by one into the MTP-TRI machine that facilitates and automates the routing of tyres, according to criteria configured and defined by market and customer needs.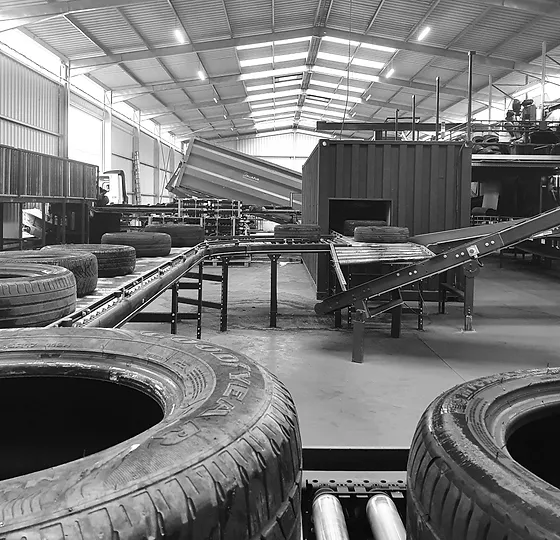 Based on Artificial Intelligence and vision measurement, the system analyses brands, profiles, dimensions, weight, and remaining rubber. According to the activity and the set criteria, the machine makes a sorting decision that can either, automatically direct the tyre to the corresponding batch, or remove up to 30% of non-reusable tyres and then the remaining good tyres go through the hands of sorters that control the physical quality of the tyres before directing them to the related evacuation door.
The system allows sorters to give tyres a new identification to direct them to appropriate usage. In addition, to be easy to use, and to improve the working conditions and job training of sorters, it was also designed to fit the requirement for tough environments that can encounter humidity, dirt, heavy products, and weather conditions. This machine can easily be configured according to the activities' specific criteria. It is convenient for tyre recycling companies that need to identify, track, and direct tyres to their right destination, either to be reused as tyres or shredded, granulated or retreaded.
REGOM believes that by giving more time to sort valuable tyres, identifying and selecting every tyre into specific batches thanks to the help of the machine and its related software, then the value of end-of-life tyres and products made out of them will increase.
REGOM is always trying to develop its services and products and is involved in various R&D projects such as the reading of truck tyres, the automatic alignment of tyres and evacuation of scrap material. Plus, the creation of a B2B marketplace for reusable tyres for French collectors, or the development of a pressure test machine for micro leaks.
In this optic of development, REGOM has decided to partner with Zeppelin Systems for the sale and market of REGOM's sorting solutions in the field of used PCR and TBR tyres and thereby put Zeppelin in the position to provide its tyre recycling solutions to interested end customers. Zeppelin is a global leader in plant engineering for handling high-quality bulk materials. Zeppelin provides services to the plastic, rubber & tire, chemicals, and food industries. Zeppelin Systems provides all plant engineering services from a single source, from basic engineering, in-house production of components and control technology, to final installation and comprehensive after-sales service.