Italian extruder manufacturer Maris, has designed and patented a new two-step devulcanisation process called Evorec Rubber Plus, to produce devulcanised rubber with very high-quality standards
By "devulcanisation," Maris means a process of selective breaking of the S-S and C-S bonds of the elastomer which causes only a limited degradation of the polymeric structure (C-C bond).
The first stage involves devulcanisation of the rubber by means of a corotating twin-screw extruder. The rubber thus devulcanised, will go to feed, by direct connection, a second extruder.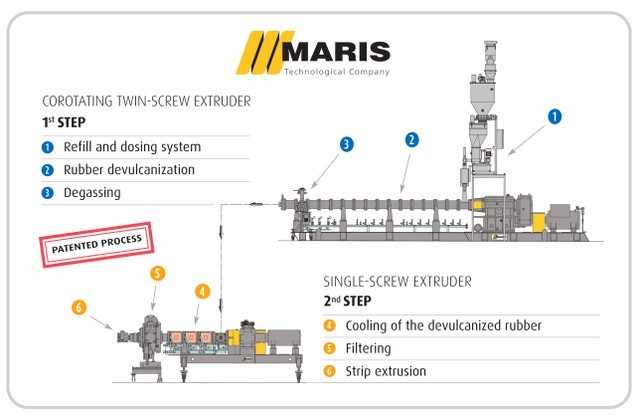 The second stage, which involves a combination of a single-screw extruder and a screen-changer, offers the possibility of achieving significant advantages:
One of the challenges of devulcanising is the risk of scorching the rubber. Evorec Rubber Plus minimises that risk by allowing fast cooling of the devulcanised rubber: this operation makes it possible to contain the temperature of the extruded strip while minimising rubber degradation. The effects are observable both in terms of the mechanical properties of the recycled material and in terms of reduced odour emissions.
The second advantage is the ability to filter the rubber. This is made possible by the high thrust capacity of the single-screw extruder, which allows the devulcanised rubber to be filtered before extrusion, again increasing the mechanical properties and, more generally, the qualities of the recycled material.