A1 Rubber is continuing to reap the rewards of its manufacturing expertise by developing niche products for the Australian flooring market. In an interview with Tyre & Rubber Recycling magazine, CEO John Randel took us through the company's recent advances and its secrets for staying at the front of its field.
A1 Rubber started manufacturing recycled rubber products back in 1993, when John Randel widened the company's wire works operations. This expansion saw the company begin the manufacturing of recycled rubber basket liners. In 1997, A1 Rubber began manufacturing products from crumb rubber using buffings and old tyres.
After realising the potential for products using recycled rubber, A1 was perfectly placed to take multiple steps forward, before disaster struck at the break of the new millennium when a devastating fire roared and seared A1's installations. The facilities may have been destroyed, but Randel's resolve was not. In 2001 he took the plunge into the deep end of the manufacturing pool and restarted A1 Rubber with a specific focus on 'Upcycling'.
Seventeen years later, A1 Rubber boasts 8,000 square metres of buildings and four acres of land in Brisbane as well as warehousing in Sydney. Nowadays, the company employs 65 people and upcycles 1000 tonnes of crumbs into finished goods per month.
Interesting note is that all of A1 Rubber's machinery is built or designed in house. This machinery means that the company can manufacture 1,000 tiles in an 8-hour shift. In our visit to A1 Rubber, John Randel explained; "In Australia, it's incredibly troublesome to find machinery, and if you are mechanically minded you have to build it yourself. This has resulted in us building and designing our own machinery, and if we do outsource, we design it and get others to build it." We pressed further on the key benefits that this approach brings, and Randel was happy to delve deeper into this crucial element of the operation. "Unique machinery allows us to produce unique finished goods. Unique finished goods are a competitive edge in themselves, but making use of this unique machinery allows A1 Rubber to benefit from a unique barrier to entry."
Today, A1 Rubber produces flooring products from recycled rubber for several applications. All products are sold in Australia, with the company currently carrying out a lot of manufacturing for retail chains. During our meeting with John Randel, we were given the lowdown on the company's flooring portfolio, starting with the recreational surfacing predominately used in playgrounds. The company's shockpad underlays guarantee thickness and density, whilst performing to all the necessary standards. Randel expands, "It's the first shockpad that can accommodate a wet-pour rubber surface over it." A1 also manufactures world-leading wet-pour mixers. These wet-pour mixers are self-cleaning and designed specifically for wet-pour rubber.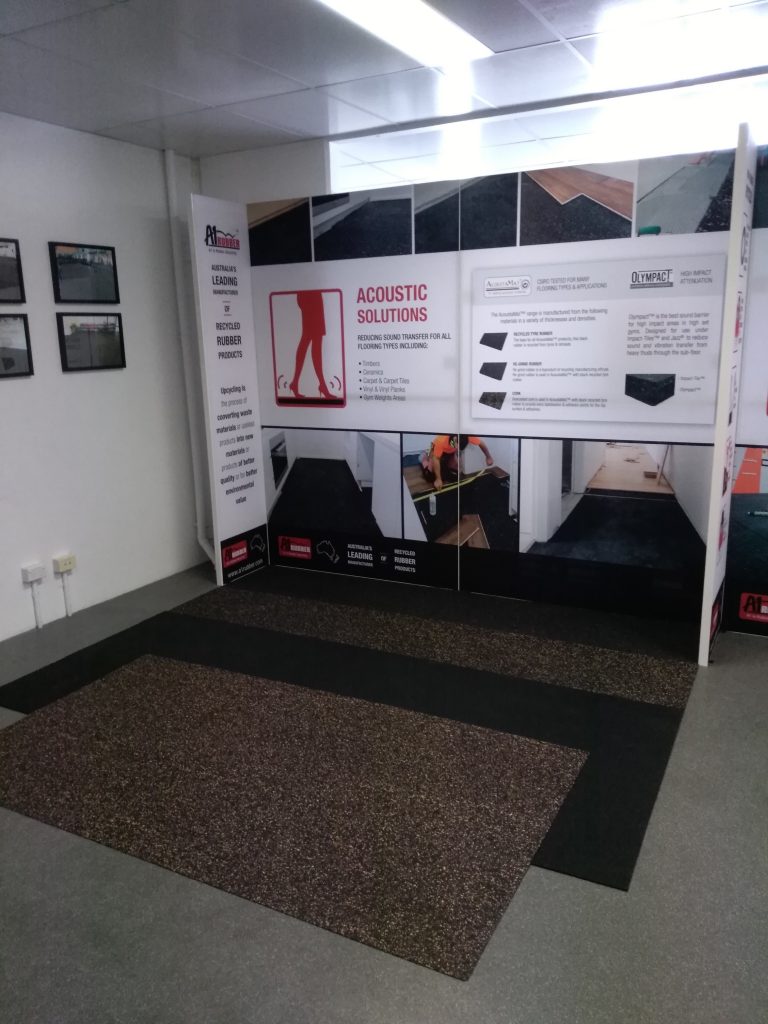 Four years ago, in the commercial and gym flooring products sector, A1 Rubber succeeded in transforming its overall quality image by developing the world's first non-porous recycled rubber flooring. Aimed at gyms and schools, this non-porous rubber flooring is capable of holding 30 PSI pressure, having similar characteristics to vinyl which Randel describes as "game-changing" for recycled rubber flooring. Once again, boosting quality and pioneering these niche offerings has only been possible due to the irreplaceable machinery at the Australian manufacturer's disposal.
The final product range that John Randel was keen to highlight was A1's hardware and retail offering. This covers home gym and playground tiles, shed and garage flooring and anti-fatigue matting. In this sector, A1 sees good opportunities for exporting to Europe amongst other markets. Says Randel; "although our unique machinery has given us a distinct competitive advantage, a big disadvantage for us in Australia has been the Australian Dollar. However, with a weakening dollar, there may be an opportunity for us to export in the future."
A case in point to support Randel's assertions can be seen through the fact that A1 Rubber recently shipped 21 containers to the UK, highlighting the scope for hardware and domestic products in Europe. "We are already shipping these products to Europe, Asia and New Zealand, whilst trying to get a little bit into the USA. We are constantly looking to develop our export business with hardware and safety matting distributors," he added. When questioned about what types of markets and partners the company was looking to work with, Randel answered, "we are currently focusing on retail outlets in Western countries." In relation to exporting other flooring options to Europe, Randel explained that it is complex in trying to compete with underlays for sports fields in Europe, as countries such as Germany are so dominant.
A large element of A1 Rubber's concept is the idea of "upcycling". We wanted to know more, and Randel was happy to explain. Back in 2000, A1 Rubber used to manufacture crumb rubber, before Randel realised that there was no money in it. "Recycling tyres is a capital-intensive process and with it being a ´dirty game´, it requires government support to be profitable. With better investments to be made, it meant that going into recycling made no sense to us."
Where there is money, he stated, is in the upcycling of crumb rubber into finished goods. Today, A1 Rubber is the largest buyer of recycled rubber in Australia. 'Upcycling' is the value adding process whereby the products are processed into finished goods, with all waste being manufactured into acoustic underlay by the firm.
On the company's green credentials, John Randel had some thought-provoking comments. He said, "we don't see any value in marketing ourselves as a green company. We find that the best way to sell our products is purely on the products meeting the quality and fitness for purpose. In our experience, the green concept is a marginal USP. The good feeling of recycling only happens following the production and sale of any goods." So they don't see any advantage in green marketing principles? Not quite. "If we gain advantages from green credentials then so be it, but we are producing niche products that clients want and are a great back end to tyre recyclers around the world."
A1 Rubber continues key investments in technology and machinery. As we've already seen, the company's technological know-how and acquired knowledge has given it a competitive edge, so it's no surprise that Randel sees this as a constant source of innovation. The most recent development has come in the form of a new high-speed dispersion mixer which makes non-porous commercial rubber flooring. The new machinery will have double the capacity of its current model. Furthermore, two years ago, the firm invested 1 million dollars in a machine to cut tiles, which pumps 1,000 square metres of tiles in one 8-hour shift. Randal says, "these developments should aid the expansion of our hardware range, as we have been finding limitations in what we can do."
In terms of contracts, a big win for A1 in recent times was their agreement with Bridgestone Australia. The agreement saw A1 Rubber supply Bridgestone Australia with industrial rubber products from the crumb rubber in their retread plants, meaning that the tyre manufacturer is installing floors derived from their own recycled materials.
At this moment in time, A1 Rubber does not have any plans to expand its manufacturing facilities to locations outside of Australia. However, in a forthright exchange, John Randel admitted that they were "interested in partnering with like-minded companies that can use their manufacturing expertise".
Regarding the future, a key component of A1's strategy, according to Randel, will be "managing costs in line with income." This may seem like a somewhat candid response to the future, but it's all for a good reason. Living in today's turbulent political climate, Randel feels that the next 3-5 years could be very challenging economically. He explains; "We have a very profitable business with sufficient reserves, meaning we could survive the gravest economic downturn. We are capitalists by nature, but no one knows what the future holds, and with the current political climate, it comes down to the survival of the fittest." A possible economic downturn would not be the worst outcome in the world, though, according to Randel. "In times of economic strife, governments spend money on schools and sports for kids. With our offerings, we are in a perfect position to provide products for playgrounds and sports surfaces should government stimulate those areas. This is because rubber fits into a government model of sports and play."