Ecopneus has rebranded with new logos to update the image of Italy's market-leading tyre recycling agency
A new graphic has been created that, while maintaining continuity with the corporate image that has accompanied it, aims to consolidate the positioning and recognition of Ecopneus, giving a further impetus towards the challenges and opportunities of the ecological transition that the country faces.
"The logo changes, but the values ​​we have always carried in the management of End-of-Life Tyres remain intact: ethics, legality and maximum service to tyre dealers, constantly aiming to promote the many applications of recycled rubber in our everyday life," declared Federico Dossena, General Manager of Ecopneus. "A more compact sign, a more solid presence, an even stronger identity: the new logo represents an evolution of the brand that has distinguished us in these first over ten years of commitment and successes for the Italian circular economy."
The renewal of the logo is part of a broader evolution of the coordinated image of Ecopneus, which inevitably also passes through social communication, already active today on four of the leading social networks (Facebook, Instagram, Twitter, and LinkedIn) as well as all BTL activities and ATL.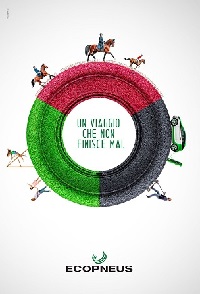 The Mosquito agency contracted to manage the redesign has devised two original and high-impact formats to be applied according to the vehicle used, enhancing the advantages that the circular economy of End-of-Life Tyres promoted and implemented Ecopneus brings to the entire community.
The first shows us an End-of-Life Tire made up of portions of different compounds and colours. Above which we see, all around, the beneficiaries of its extraordinary metamorphosis as athletes of different categories, children, motorists, and citizens. Meanwhile, a header reads "A journey that never ends," while the sub-head specifies the different areas in which recycled rubber is used each time.
On the other hand, the second format has as its subject the materials themselves, shown in macros, which become the basis for advertisements designed in the form of advertising copy.
The additional logos are related to the use, sports infill, asphalt, etc. They highlight, with a bit of irony, the intended use of thousands and miles of tons of end-of-life tyres, of which Ecopneus guarantees collection, transport and recycling every day.