New tyre recycling projects in Russia are likely to be delayed as Western sanctions have nearly barred the way for Western equipment to the country.
Tyre Recycling in Russia Under Huge Pressure
Only up to 30% of waste recycling equipment in Russia is manufactured in the country, Alexander Svidovsky, general director of the Russian waste recycling company Vtor-Plast estimated. Besides, in the current market conditions import replacement in the tyre recycling field is complicated by sanctions, as even equipment of Russian origin is assembled from imported components, Sidovsky added.
"In most cases, this is about high-technological components there are no analogues in Russia," Sidovsky said.
In addition, the Russian tyre recycling industry is hampered by insufficient waste sorting capacities. Despite the environment-protecting legislation adopted in Russia over the past few years, a decent share of tyres keeps landing at landfills, where they are mixed with household and industrial waste. Quite frequently tyres are being cast away to illegal dumps, as their owners seek to avoid payment of the fee for proper disposal.
As explained by Sidovsky, waste sorting is one of the weak points of the entire Russian waste recycling system, as most equipment in this segment is also imported.
"A [government] reform aimed at increasing the share of recyclable waste is carried out slower than anticipated. And due to sanctions, an even greater slowdown seems likely, as many [recycling companies] have to terminate past contracts and look for new partners," Sidovsky said, adding that some hopes are laid on deepening cooperation with countries that have not joined Western sanctions against Russia, including Turkey and Asian states.
On the other hand, a lack of foreign components is expected to remain a pressing issue for a time being, Sidovsky said.
Projects are Being Abandoned
Western sanctions imposed on Russia by the EU, the US and several other countries are expected to cause a shortage of spare parts at already running waste separation lines, Anna Garkusha, an expert in the Separate Collection movement said.
"[Waste] sorting lines need bearings, belts, optical separators and other components. It is not clear whether the existing conveyors will last until the necessary parts of domestic production emerge, " Garkusha said, adding that support measures offered by the government in this field are clearly not enough to overcome this problem.
Coupled with the lack of imported recycling equipment, problems experienced by sorting lines push investors to massively put development plans on halt.
"So far, the largest companies are working, but new sorting and recycling projects will be revised," Leonid Sinitsyn, head of the Russian ecological project Sobirator said, adding that waste recycling has always been a low-margin business, but now things are expected to worsen further.
Before the current crisis, Sobirator also provided consulting services to investors interested in launching waste recycling in Russia. In the current conditions, the company sees the number of new clients plummet.
"We began to experience financial difficulties due to the departure of Western companies, which were our main clients. Two-thirds of the [waste recycling] projects were frozen or cancelled," estimated Sinitsin.
On the other hand, there is a glimmer of hope that the need for waste recycling in Russia will raise, as the country currently faces problems in several fields, and secondary resources could come in handy, Sinitsin said.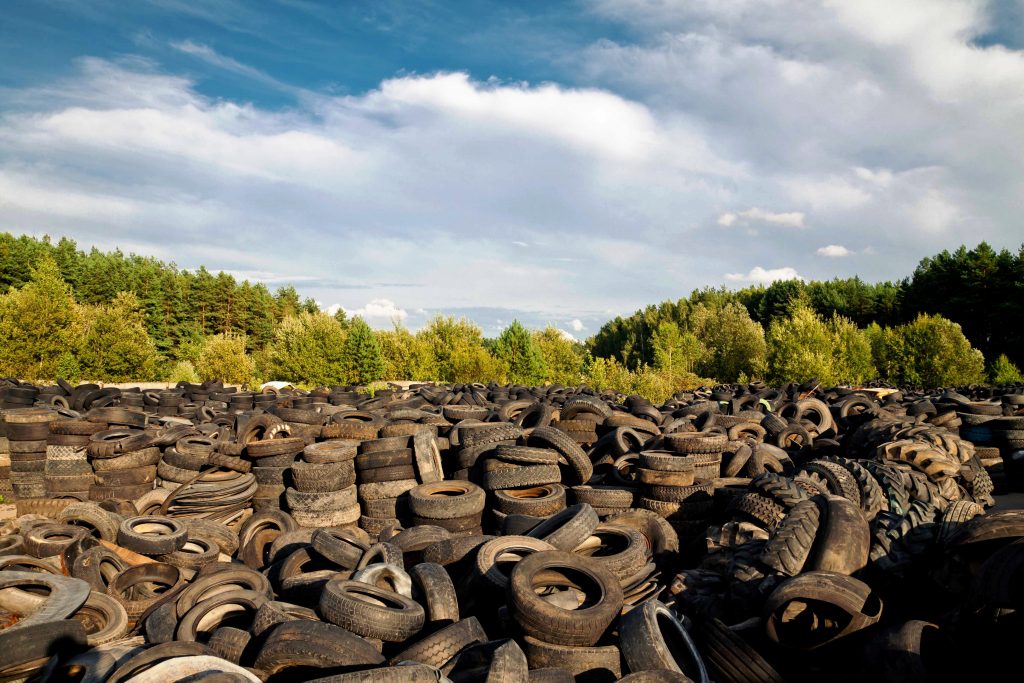 Fake Recycling Flourishes
On the other hand, market participants said there are growing fears that the current crisis could keep the share of what's called fake tyre recycling extremely high.
Up to 50% of tyre recycling is faked, as recycling companies issue certificates without actually recycling tyres, the Russian Environmental Operator (REO) estimated. In most cases, companies issuing fake certificates simply remove tyres to the landfills.
In 2021, tyre companies had to ensure that 30% of tyres manufactured or imported into the country were recycled. In early 2022, the Russian government embarked on an extended producer responsibility (EPR) programme, under which the recycling rate is set to grow by 10% per annum. As estimated by REO, 1 million used tyres are generated in the country every year.
REO is confident that fake certificates last year were issued for 120,000 tyres, incurring losses to the tyre industry close to 1 billion rubles ($15 million). Under the EPR programme, the cost of tyre recycling ranges between 2,000 and 4,000 rubles ($30 to $60), while tyre recycling companies receive compensation close to 2 billion rubles ($30 million) collected among tyre manufacturers and importers.
In 2021, Russian recycling companies appealed to the government asking to introduce tougher liability for faking recycling certificates.
"Now the basic task is to form a transparent accounting system, force fraudsters out of the market and cut the ground from under the feet of fictitious recyclers," Rashid Ismailov, chairman of the Russian Ecological Society said. "We need a tougher approach to administrative sanctions for violations."
However, Western sanctions could give an impetus to the fake tyre recycling segment in the country, a source in the industry said under condition of anonymity. In order to overcome the current economic crisis, the Russian government rolled out plans of a large-scale liberalization in the country, including decriminalization of some economic offensives. In waste recycling, segment control is also likely to be loosened.
As explained by the source, in the current conditions the government wishes not to revise any plans declared before the Russian invasion of Ukraine. In this context, fake certificates would, in fact, suit everyone.
"The task of 30% tyres recycled was unrealistic last year. Now, it is even more unrealistic, and the figure is set to be gradually raised," the source said, explaining that bank loans are rather expensive, and most investors have opted for taking a pause on their plans, waiting for things "to settle down a bit".
However, the biggest problem with fake tyre recycling is that it hampers legal business. As a rule, companies faking recycling certificates offer the most competitive rates. Under the current law, tyre manufacturers and importers have no need to ensure that their tyres have been properly disposed of under an agreement signed with recycling companies, so in most cases, they would go opt for the best price.
"Legally-operation tyre recycling companies usually have a capacity utilization ratio below 60% to 70%. Now, this figure is likely to get lower, as everyone is tightening their belts, and saving some money on tyre disposal is a very welcomed option," the source said.
Tyre Incineration is an Option
The current problems of the Russian tyre recycling industry could breathe new life into the waste incineration project.
A Russian state-owned company RT-invest, targets to build 25 waste incinerating plants, virtually nearly all major Russian cities, for 1.3 trillion rubles ($15 billion).
To oppose the project, Russian ecologists formed an Alliance against Incineration and Waste Recycling. The new organization submitted a letter to the Russian government warning that mass waste incineration would put an end to waste recycling in Russia.
"Almost all recycling companies [in the Moscow region] experience a shortage of raw materials already today," the alliance said, explaining that this is because waste is not sorted in Russia.
The Russian environmentalists have seemingly succeeded in the construction of the first two waste-incineration plants in Krasnodar Krai, Russia have stalled, the Russian independent news outlet Plus-One reported in early 2022. In addition to the concerns voiced by the ecologists, the financial side of the project is also poorly developed.
There are mounting fears that amid the problems of the recycling industry, the authorities could set their sights on incineration to sort out the waste problem in the country.