Jumoke Olowookere, a U.S. Consulate's Academy for Women Entrepreneurs graduate, is running a waste museum where end-of-life tyres (ELT)s are given a second life in Ibadan, the third-largest city by population in Nigeria after Lagos and Kano. The waste museum is the first of its kind in Nigeria.
Olowookere Running a Waste Museum
Olowookere's foray into upcycling started as a holiday camp with about 33 students, where she taught tyre upcycling in 2012.
"The first time I ran the event, I had over 33 students; they came for two weeks. By the time I was through that holiday camp, I knew I would continue with upcycling because I explored all kinds of waste upcycling, including used tyres," she told Tyre and Rubber Recycling.
In 2017, Olowookere travelled to Lagos to attend a tyre upcycling training organised by Olamide Ayeni, from Pearl Recycling.
"It was a training session on tyre upcycling, I was already working with tyres then, but I needed to acquire more skills," she told Tyre and Rubber Recycling.
Before the Lagos training, Olowookere did a lot of landscaping with tyres; she and her team adorned waste tyres with paintings and were using them as gardening containers. Her tyre upcycling also included mirrors. However, she wanted to explore more and see other things she could create.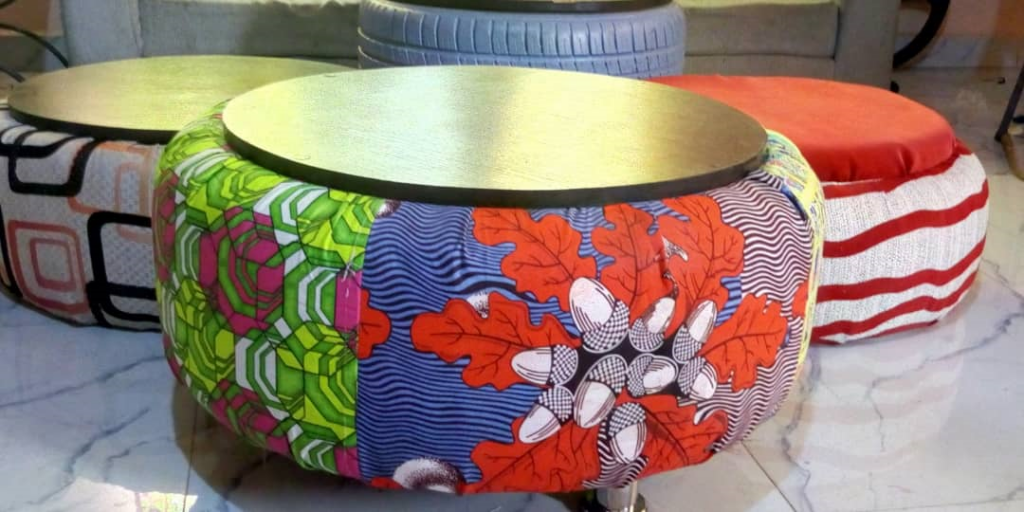 A Mission to Create a Sustainable World without Waste
Three years after the training in Lagos, she founded her social enterprise, African Creative Sustainable Synergy Hub, with a mission to create a sustainable world without waste through upcycling and education.
The social enterprise focuses on training and creating durable and affordable functional products from recycled materials like tyres, plastics, nylons, bottles, bamboo, scrap fabrics, food wastes, old wood, etc. But what stood out was her tyre upcycling, through which she has manufactured tyre ottomans, mirrors, wall art, flowerpots and vases, slippers, and shoes—all produced from discarded tyres.
Olowookere says one of her core missions is to help people realise how much value they can make from waste tyres and how to convert them into wealth. "In one of our training sessions, we realised that when people see the things that we have done with waste, they want to join us."
Olowookere and her team of 12 staff and over 50 volunteers also organise workshops and training for children in and out of school, adults, workers, organisations, and churches. "We teach them how to manage their waste and create sustainable products from everyday waste," she told Tyre and Rubber Recycling.
Scalable Solutions to Provide Environmental Education
Her experience inspired Olowookere to think of scalable solutions to provide environmental education and equip women and youth from underserved communities with upcycling skills. So, she launched the waste museum and upcycling training centre in Nigeria with support from the United States Africa Development Foundation (USADF), an independent U.S. Government agency established by the U.S. Congress to support and invest in African-owned and African-led enterprises that improve the lives and livelihoods of people in underserved communities in Africa.
According to Olowookere, the overall objective of establishing the museum is to protect the environment from degradation and support the expansion of sustainable upcycling businesses in Nigeria.
Nigeria is still struggling with tyre recycling as it generates many tons of waste tyres every year with considerable challenges in management – both in collection and disposal. The country does not have an integrated plan to manage the menace of waste tyres, so most tyre recycling activities are small-scale and do not do much to tackle the broader problem.
Nigeria has the raw materials—natural rubber, synthetic rubber, oil, and carbon black, which is a by-product of crude refining, to produce tyres, but the sector is not given the support to thrive; Olowookere believes more support and investment in the sector will make Nigeria a tyre recycling giant.
At her Waste Museum in Ibadan, Olowookere is breaking boundaries, as her work includes making the concept of climate change familiar to Nigerian citizens who are unaware of the dangers of burning tyres as a way of elimination.
In the last three years, she has removed more than 5,000 tyres from the environment through her upcycling business.